Your guide to choosing the perfect chair

Relax Your Way
Our range of chairs is truly amazing, with so many choices it's easy to create your perfect look. From chaise to cuddler, armchair to accent and recliner to swivel – you'll love sitting, snuggling, sleeping and even listening to music. Here's our experts' guide to our extensive collection.
Leather or fabulous fabric
Our chair range is all about choice. So whether it's a 100% leather armchair or recliner, or a stylish accent chair or chaise longue in the perfect fabric, we've got something for you.
---
Make a statment
Statement chairs can really bring a room to life by allowing you to create a whole new look with just one key piece. Whether you want to make your statement with size, colour, shape or pattern. Jazz up a minimalistic room with some pattern play, from bold stripes and multi-coloured patchwork to blossoming florals and fierce animal prints. We have a vibrant selection of multi-coloured chairs and luxurious plush velvet chairs.
---
Choose the perfect recliner chair
Recliner chairs are available in a wide variety of shapes, sizes, fabrics and features. There is a wide choice from manual to electric tilting mechanisms and there are even options to help people with reduced mobility. Read our guide and choose the recliner chair that suits you best.
Manual recliner chairs work through a simple system with a lever. When you pull the handle, it tilts back and a footstool emerges for ultimate comfort and relaxation. Thanks to the advanced design these armchairs allow you to quickly and efficiently return them to their upright position.

Many of our manual reclining chairs are equipped with extras, such as adjustable headrests and a two-position backrest. You can completely recline them even if they are only a few centimetres from the wall, saving space.

Relaxed recliner chairs work with buttons and electric motors instead of manual levers.This makes them super handy and easy to use as no physical strength is required to sit back. Tilting recliners, both electric and battery powered, is effortlessly smooth and most armchairs allow you to capture and lock your favorite angle of inclination for optimal comfort.

In addition, many armchairs offer extras such as adjustable headrests and can recline completely, even if they are only a few centimeters from the wall. A perfect luxury addition to any room, large or small.

The armchairs with a mechanism for raising and tilting (the so-called Rise & Tilt) are electrically driven armchairs that are perfect for people with mobility problems, the disabled or the elderly. These armchairs have a smart design that focuses on comfort and ease of use: a built-in mechanism raises the armchair and tilts it gradually until it is in a position where the user can easily get in or out of the armchair.

These armchairs help lift the person using the chair from sitting to standing position and vice versa in one smooth motion. Once seated, the armchair can also lean back and give the person support, relief and relaxation with various options for raising and footrest positions.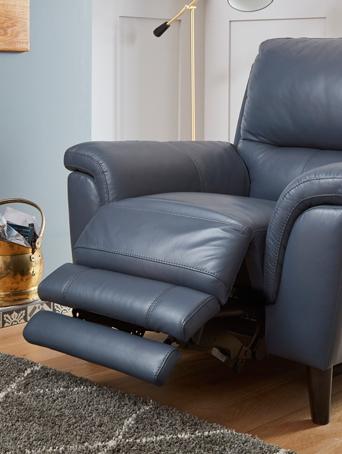 Shop recliner chairs
---