Sofa Care
Buying a new sofa is a real investment, and one of the most important decisions you can make when it comes to decorating your home.
We've put together a few handy tips and tricks that'll allow your whole family to relax on your sofa together every day, while keeping it looking its best. Knowing how to care for your sofa on a daily, weekly and yearly basis will extend your sofa's life, keeping it comfortable for longer.
View daily sofa care tips

View weekly sofa care tips

View monthly sofa care tips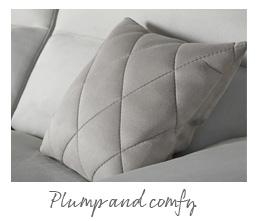 Daily Tips
Your cushions work hard to give you and your family a comfortable place to relax together, so they can start to look a little tired without the proper care and attention. If you stick to a simple daily routine to show them some appreciation, they'll be softer for longer. To make sure you adopt the right routine, first check whether you have fibre or foam-filled cushions.
Fibre-filled cushions
Plumping up fibre-filled cushions every day will help them to keep their original shape and prevent them from becoming deflated as their fibres mesh together – and it takes no time at all. To do this effectively, hit them on all sides and drop them onto a clean floor to get some air back into them. Also remember to swap your fibre-filled cushions around. This means that none of them see more action than the others and they all stay as comfy as possible.
Stain prevention
Stains should always be tackled right away – first by soaking up any excess liquid with a clean, dry cloth, and then by spot-cleaning the area. Make sure you have the right cleaning products for your fabric and keep them within reach in case you need them in an emergency. If you use the wrong supplies for your sofa, you could risk damaging the material and voiding your insurance policy. Check the tag or label to see what we recommend.
Location location location
Gradual daily damage to cushions can be avoided by keeping them away from food preparation areas, direct sunlight and the elements. So check that your sofa is out of reach of potential hazards to keep it looking its best.
x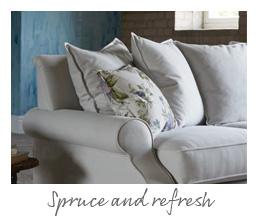 Weekly Tips
Your sofa is the heart of your living room, so don't neglect it on cleaning day. A weekly cushion spruce up can refresh your whole room with barely any effort. Just follow our top tips to keep your sofa looking as good as new.
Wipe Clean
First, wipe your cushions down every week with a clean cloth; it can either be damp or dry depending on the type of fabric. This will remove any general dust and dirt that has built up and stop any gradual staining in its tracks.
Hoovering
One of the most effective ways to keep your cushions looking smart is to hoover them all over once a week. We recommend using a low setting and a soft brush attachment to avoid damaging the fabric.
Brushing
Brushing your sofa cushions might feel a little odd at first, but it's the perfect way to keep the fabric intact and the colours bright. Cushion covers can look dull and worn over time if the fabric is constantly flattened, so give them some TLC with a soft brush to fluff the fibres back up.
Banish the bobble
Nothing ages your cushions as much as bobbling or pilling, so a weekly bobble-removing session can be an instant facelift for your sofa. A fabric shaver, which is designed for use on clothing, is ideal for use on cushion covers as it will remove bobbles gently while preserving the material.
x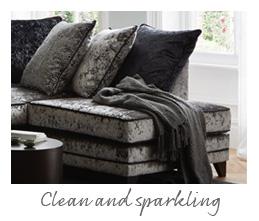 Monthly & Annual Tips
Whether it's a fresh start or a traditional spring clean, think about sprucing up your sofa monthly to revamp the look and feel of your room. Make sure to follow our easy quarterly care tips to reinforce your daily work.
Hoovering
The best place to start is with a really good clean underneath and behind your sofa. This task is made much easier by our special Eaziglide technology, which lets you pull out your sofa with minimal effort.
If you've got a sofa bed, it's also a good idea to take this opportunity to give the mattress a good vacuum.
Repositioning
Next, think about whether repositioning your sofa in another spot might give your home a bit of a boost. Bear in mind that direct sunlight will fade the colours more quickly, so try to avoid exposing your fabric to the sun's rays.
An easy makeover
To totally transform your sofa, you can also shop around for new throws and scatter cushions. A new look is easy to achieve with new accessories, so play around with different colour combinations to make it seem like you've bought a whole new sofa.
x
Protection plans
We've got summaries of our different protection plans, so you can quickly find out what
you're covered for and what you're not.
---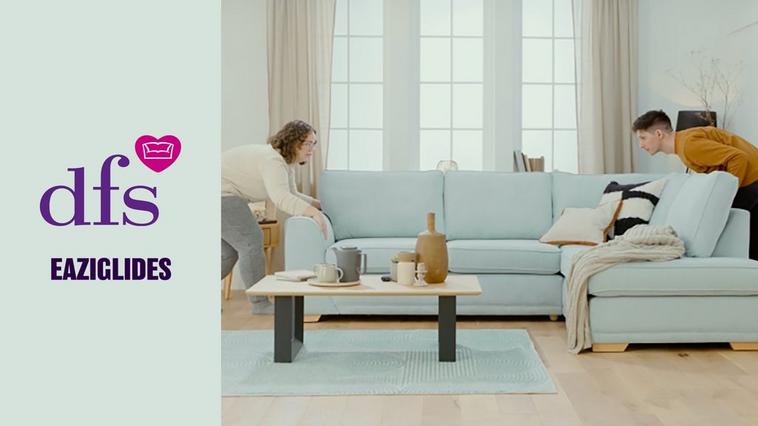 Eaziglides
Our Eaziglides are specially designed to make moving your sofa quick and easy without any damage, noise or strain. With Eaziglides attached to the feet, you can simply glide your sofa along the floor with no risk of ruining your carpet, floorboards or tiles.
---
---